HOW TO EAT VIETNAMESE GREEN MANGO WITH SWEET FISH SAUCE | XOÀI XANH MẮM ĐƯỜNG
Fruits are considered desserts after a meal in Viet Nam, and Vietnamese green mango with sweet fish sauce is a common and popular dessert. Mangos don't have to be fully done or ripen to be enjoyed. In fact, most Asian countries eat mangos while they're still green. I'm sure you're doubting that "fish sauce" is actually a dessert. And you're right, it's not. But it's a very popular dipping sauce that regularly accompanies green mangos.
There is a handful of fish sauce brands to choose from, I'm sure. But the brand I use in my kitchen is Viet Huong Three Crabs. You will be able to find it at any Asian supermarket—and even some American markets such as Walmart or Target!
When you're at the store or market, choose green mangos. You might even get away with rajapuri mangos. Avoid yellow/orange mangos such as the alphonso or badami mangoes. Just pick the greenest of the batch. You'll want to peel the skin off of the mango before eating, of course. Cut the mango however way you would like. A lot of people tend to cut their mangos into thick "sticks" for better dipping purposes. I'm not one of those people. My mango pieces are sliced thin. It's a personal preference and you absolutely don't need to cut your mango as I do. I also like to add small bits of red chili pepper to my sweet fish sauce as well, for an extra kick of spice.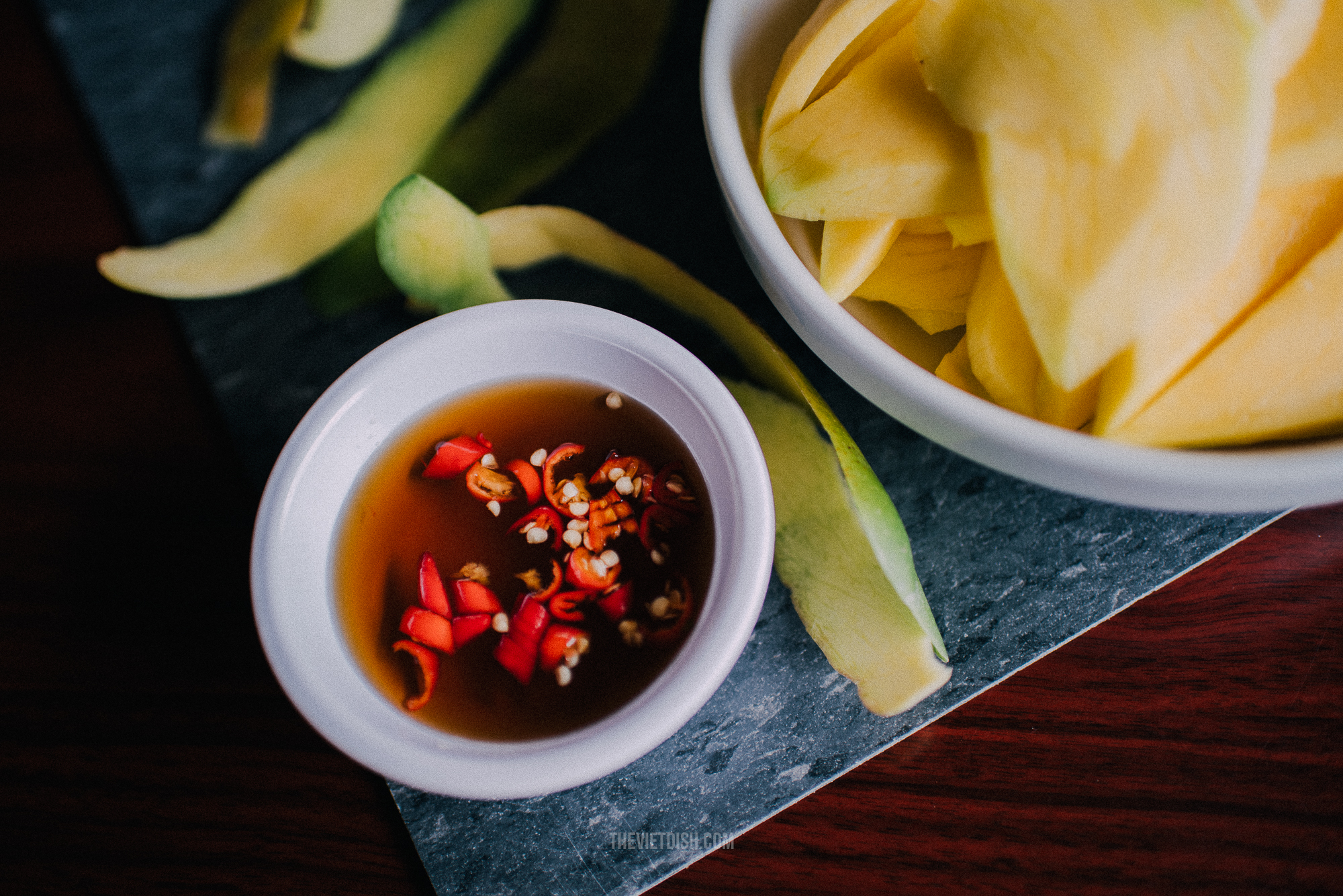 Ingredients
1 green mango
30 grams (2 tbsp) sugar
red chili pepper, chopped (optional)
Instructions
Peel skin off mango.
Cut mango into desirable-sized pieces. For green mangos, it's recommenced to slice mango pieces as thin as possible.
In a small bowl for dipping sauce, combine sugar and fish sauce. Using a spoon, mix the two together. Sugar does not need to dissolve.
Add optional red chili pepper to the dipping sauce if desired.