HOW TO MAKE VIETNAMESE STIR FRY BITTER MELON WITH EGGS AND SHRIMP | KHỔ QUA SÀO
Bitter melon is a common vegetable used in Vietnamese cuisine for a variety of dishes, including soups and stir-fry recipes. This stir fry bitter melon with eggs and shrimp dish also has bean thread noodles. This dish can be enjoyed alone as a side or together with rice as a full meal—feel free to add meats or fish to the plate as well! But as the name suggests, bitter melon is bitter and can be an acquired taste for some people. Although it can be an acquired taste, it is a very healthy vegetable. Bitter melon is great for people who are diabetic.
This recipe includes ginger slices to refresh your tastebuds. If the combination of ginger and bitter melon might be too strong for you, take ginger out of the recipe or reduce its quantity. This dish can also be altered to be vegetarian as well. Simply remove the eggs and shrimp, and substitute chicken seasoning with more vegetable seasoning.
Other recipes may advise cutting the bitter melon in half vertically to remove the seeds. While there is nothing wrong with doing so, if you are able to remove the seeds without actually cutting the bitter melon, it will look nicer in the end—your bitter melon slices will be full circle and not half-circle. To achieve this, cut off a bit at the end, enough for a spoon (long mixing spoons work best) to fit through. Then use the spoon to scoop out the seeds. Slicing or cutting the bitter melon first and removing the seeds afterward will also work.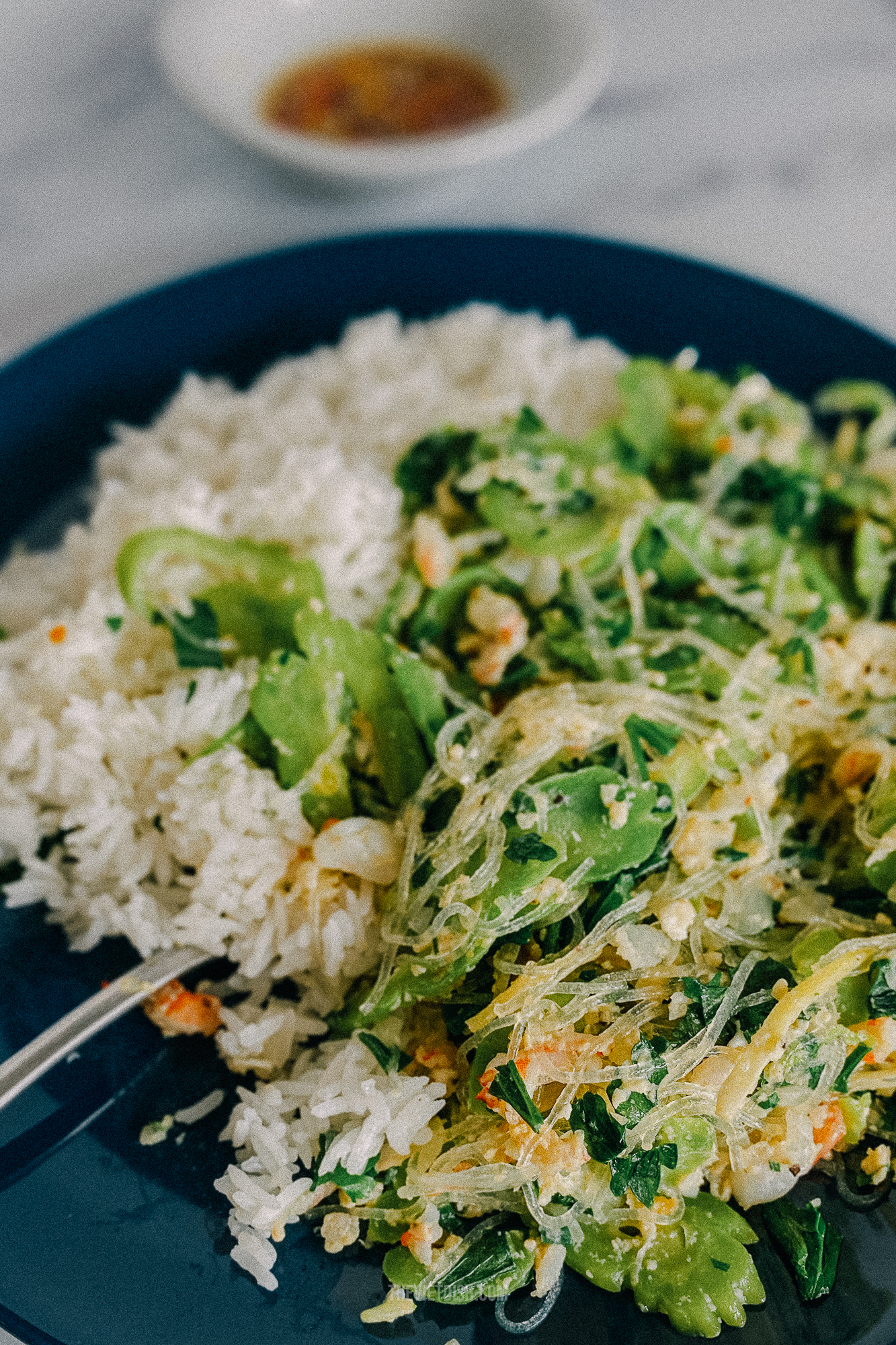 Ingredients
500 grams (1.1 lbs) bitter melon
100 grams (0.2 lb) peeled shrimps
50 grams (1.8 oz) dried bean thread
2 eggs
3 scallions
5 grams (1/2 tbsp) fine julienne ginger
3 celery leaves
8 grams (1 tsp) chicken seasoning
8 grams (1 tsp) vegetable seasoning
8 grams (1 tsp) sugar
15 ml (1 tbsp) cooking oil
4 grams (1/2 tsp) ground pepper
40 ml (3 tbsp) cold water
Instructions
PREP—
Soak dried bean threads in warm water for 10-15 minutes until softened. Afterward, using scissors, cut into shorter pieces approx. 5 cm in length. Set aside.
Remove seeds from the bitter melon. Cut bitter melon into 1/4 cm thin slices. Rinse and set aside to dry.
Clean shrimps with salt water. Cut into smaller thin pieces, as thin as possible. Set aside.
Wash scallions. Cut into 1/2 cm pieces. Separate the leaves and stems.
Wash celery leaves. Cut into 1.5 cm pieces. Set aside.
In a bowl, combine eggs, shrimps, scallions leaves, ground pepper, 1/4 tsp chicken seasoning, 1/4 tsp vegetable seasoning, and 1/4 tsp sugar. Mix well and set aside.
COOKING—
Place a pan on the stove at medium heat. Add cooking oil to the pan.
When the oil is hot, add scallion stems and ginger to the pan. Combine/mix to create an aroma.
Add bitter melon to the pan.
Add remaining seasonings and sugar and continue stir-frying.
Add water.
After the water absorbs into the stir fry, bring the heat to a low setting. Add the bean threads.
Next, add the eggs/shrimps combination from the 6th step of prep. Continue stir-frying until the eggs and shrimps are cooked.
Finally, add celery leaves. Stir to combine everything in the stir fry and then turn off the heat.
SERVING—
You can enjoy this bitter melon stir fry separately as a side dish, or with rice.
Notes
Soak the dried bean threads as the first step in the prepping process. While the bean threads soak, you'll be able to work on the rest of the prep.