HOW TO MAKE HOMEMADE CHILI GARLIC SAUCE | TƯƠNG ỚT TỎI
Chili garlic sauce is a must-have in most Asian restaurants and home kitchens. There are only five ingredients for this homemade chili garlic sauce recipe. It will taste just the same (if not better) than store-bought chili garlic sauce without the added preservatives.
This recipe is also 100% organic. Every year I always have too many red chili peppers and garlic from my garden at the end of the harvest season and so I make chili garlic sauce. There has not been any store-bought chili garlic sauce in my house for years.
The prep is what takes the longest time. You have to make sure to remove all the pepper stems and garlic skins. The recipe itself is very easy, and the cooking process only requires you to have a vegetable chopper or multi-processor—I have one from Cuisinart, but any chopper will get the job done. Depending on the size of your chopper, you might have to divide and conquer in small portions.
Even without the added preservatives, this chili garlic sauce recipe will last a long time, approximately 5-6 months, if stored correctly. The trick is to store the sauce in glass containers and keep refrigerated.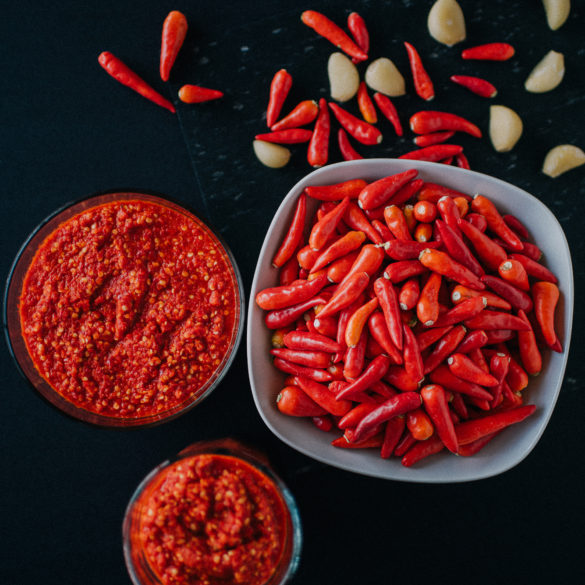 Ingredients
450 grams (approx. 1 lb) red chili peppers
85 grams (3 oz) garlic
60 ml (1/4 cup) white vinegar
10 grams (2 tsp) sugar
5 grams (1 tsp) salt
Instructions
PREP—
Wash and remove stems from peppers. Let dry.
Remove garlic skin.
COOKING—
Combine all ingredients.
Using a vegetable chopper, thoroughly chop until finely minced. Depending on the size of the vegetable chopper, divide it into smaller portions if needed.