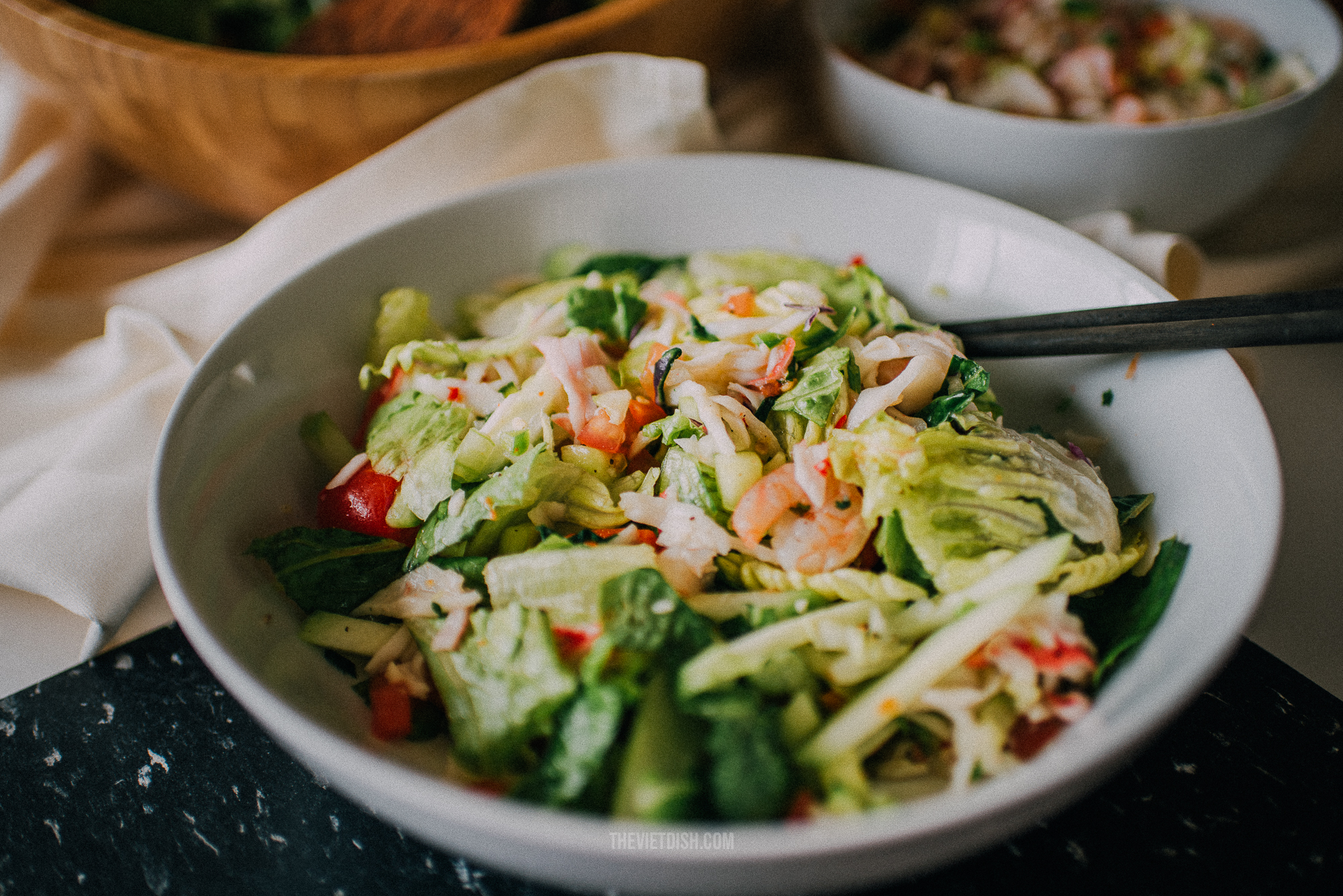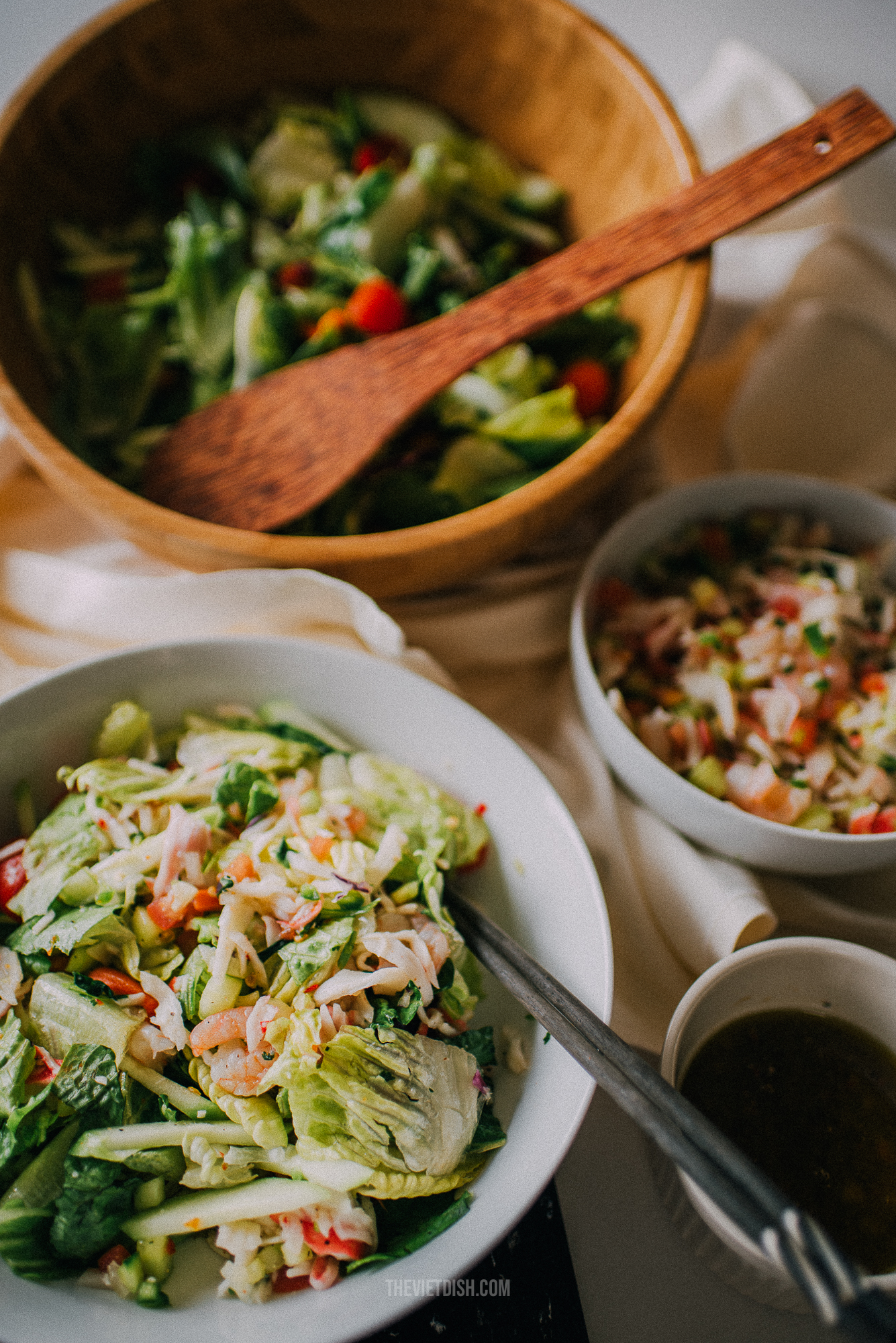 HOW TO MAKE ASIAN SEAFOOD SALAD WITH SPICY SESAME DRESSING | XÀ LÁCH HẢI SẢN NƯỚC CHẤM CHUA CAY
Inspired by salsa, this Asian seafood salad with spicy sesame dressing combines many ingredients tied together with a sweet and spicy taste. The dressing for the salad was a trial-and-error process. Olive oil was originally used as the base, but the dressing didn't taste "Asian" to me. After a few tries, I finally settled on sesame seed oil.
You can find most of the ingredients at your local food store. A common seasoning I always use is mushroom seasoning. It is a healthy alternative to monosodium glutamate (MSG.) This might be the only ingredient you will have to buy from an Asian supermarket.
The white shrimps are precooked with the tails off and are from the brand Great American Seafood. The imitation crab is from Transocean. I used leg-style imitation crab, but if you get shred-style, you can skip unrolling and separating.
I've learned the secret to the perfect oil-based dressing is how you add the oil to the rest of the dressing. As you add the oil, it is very important to continue whisking. This will help combine the oil with the rest of the dressing and prevent separation.
You can use whatever lettuce you prefer. I used a combination of romaine lettuce, iceberg lettuce, and red cabbage. I also tossed in some carrots shreds and a few grape tomatoes from my garden. Make sure to completely dry the lettuce before placing it into a ziplock bag if you're planning to store it for a later time. Oftentimes, people will store freshly cut and washed lettuce immediately in the refrigerator—the water combined with the air will cause the lettuce to go yellow or brown more quickly.
Cutting up lettuce from scratch helps you avoid added preservatives—but if you don't have time, you can also buy pre-packaged lettuce.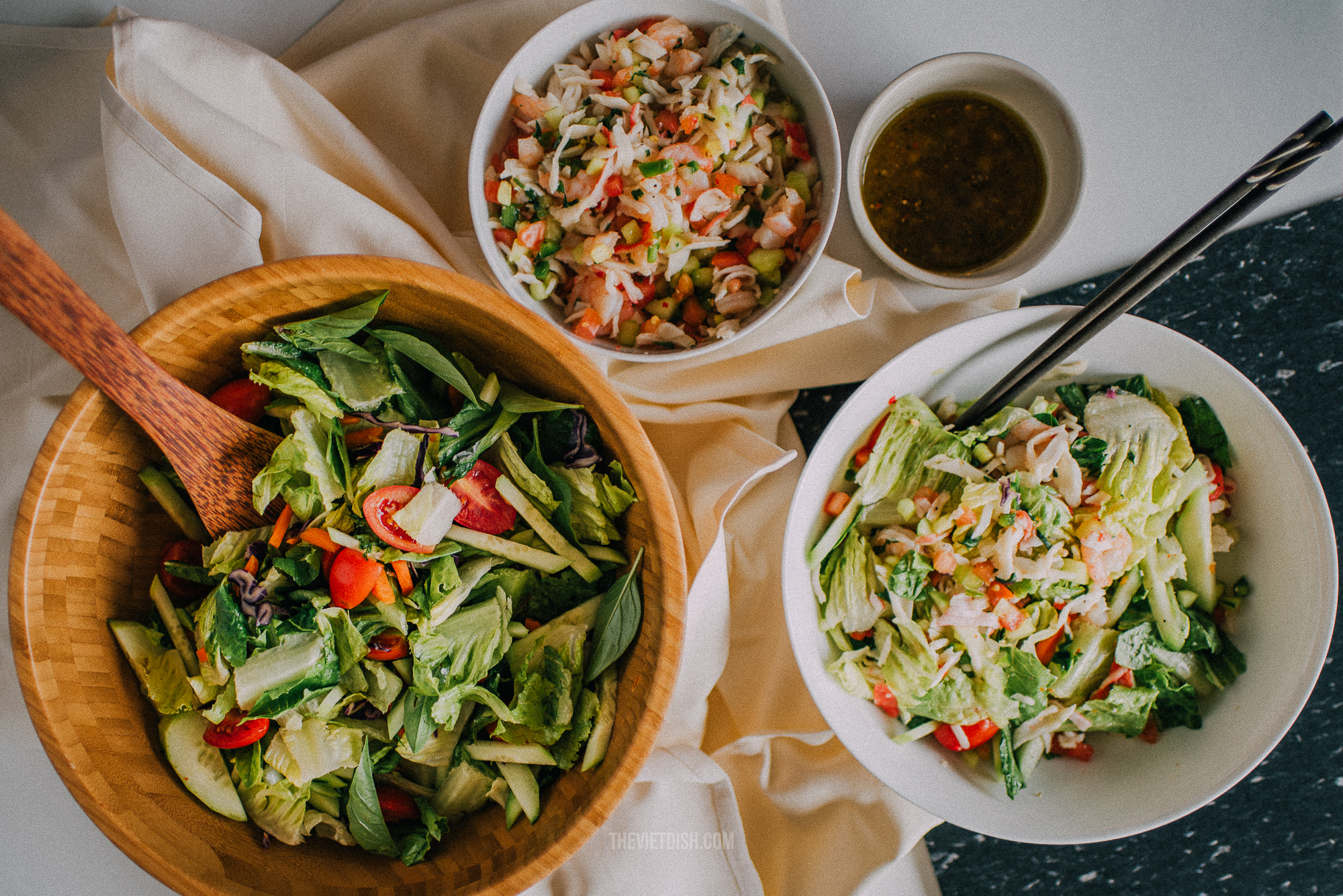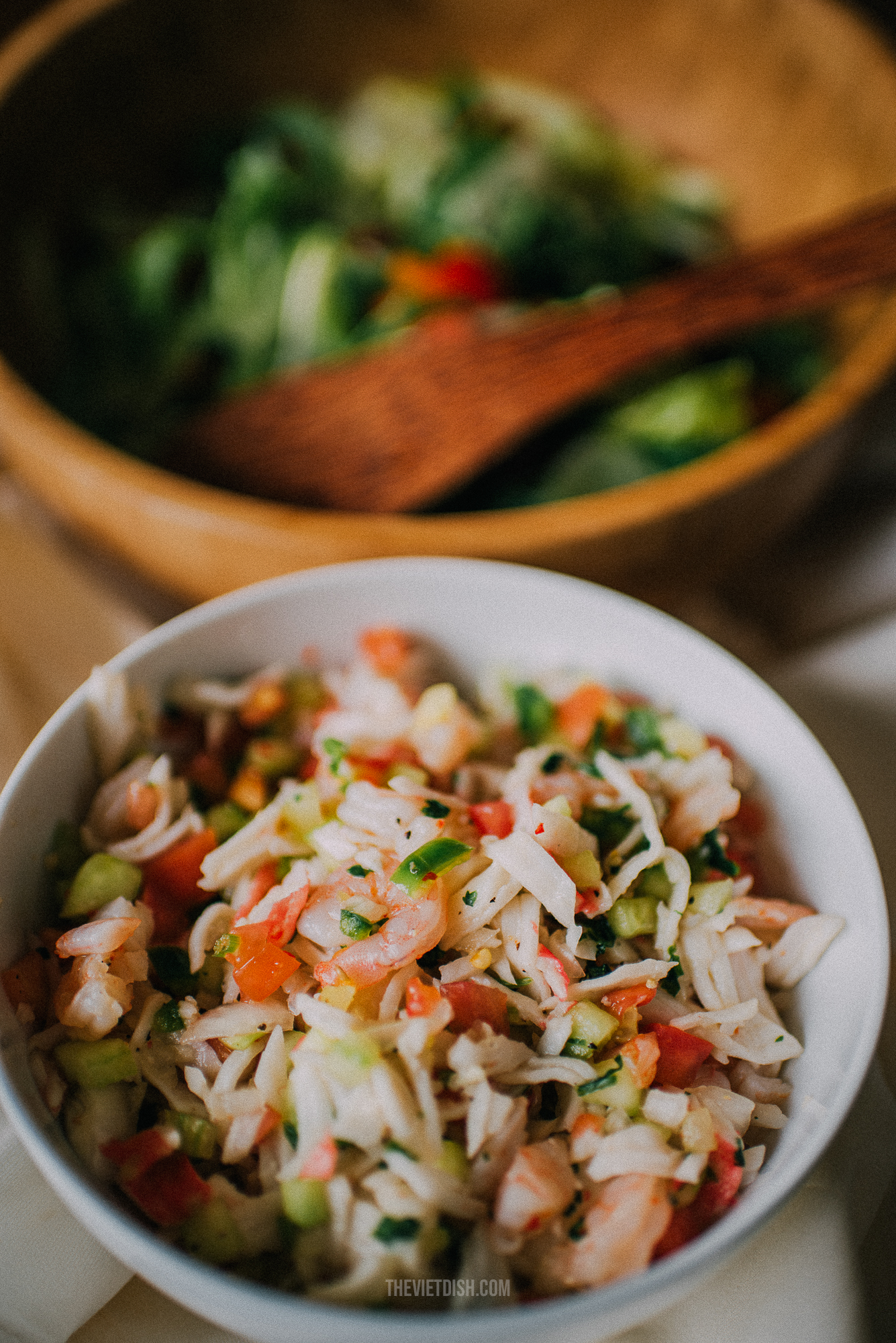 Ingredients
lettuce of your choice (I used the following)

1 romaine lettuce
1/2 iceberg lettuce
1/8 Red cabbage
1 carrot
cherry tomatoes

1 red onion
3 tomatoes
1/2 cilantro bunch
45 grams (3 tbsp) sugar
15 grams (3 tsp) vegetable seasoning
5 ml (1 tsp) chili garlic sauce
hard boil eggs (optional)
1 jalapeño (optional)
4 celery stalks (optional)
1 cucumber (optional)
1/2 green mango (optional)
SESAME SEED DRESSING—
60 ml (4 tbsp) sesame seed oil
120 ml (8 tbsp) soy sauce
60 ml (4 tbsp) vinegar
30 ml (2 tbsp) honey
75 grams (5 tbsp) sugar
15 grams (1 tbsp) vegetable seasoning
5 grams (1 tsp) pepper
5 ml (1 tsp) red chili pepper
10 grams (1/2 tbsp) white sesame seed
Instructions
PREPPING THE SALAD—
Wash, slice/cut, and combine your choice of lettuce. Set aside.
Slice and combine optional celery, cucumber, and green mango. Set aside.
HOW TO MAKE SEAFOOD MIX—
Wash shrimp. Set aside.
Wash crab. Cut into 3 cm pieces. Unroll and separate into thin pieces. Set aside.
Dice and combine red onion, tomatoes, cilantro, and optional jalapeño. Set aside.
In a bowl—combine everything.
Add sugar, vegetable seasoning, mushroom seasoning, fish sauce, and chili garlic sauce. Mix evenly.
HOW TO MAKE SESAME DRESSING—
In a bowl—combine everything except sesame seed oil.
Using a whisk—mix until seasonings dissolve.
While still whisking, slowly add in sesame seed oil.
SERVING—
In a salad bowl—combine and mix desirable-amount of lettuce, seafood mix, optional celery, cucumber, green mango, and dressing.
Top salad with optional hard boil eggs.
Enjoy!
Notes
When making the sauce, it is very important to continue whisking as the sesame seed oil is being added. This helps combine the oil with the rest of the dressing. If you're using a hand whisk, I suggest asking for a second pair of hands to help pour the sesame seed oil.